I saw the movie
Risen
(2016) recently, which stars the British actor Joseph Fiennes as the main character. He plays Clavius, a Roman tribune detailed to investigate the disappearance of Jesus' body from the tomb he was buried in. Most of the film includes the traditional material from the gospel accounts, but more from a third-person perspective than offerings such as
The Passion of the Christ
(2004) or
The Son of God
(2014).
Clavius, a Roman tribune, investigates Jesus' resurrection in the film Risen (2016)
I identified with
Risen
more than any other faith-based movie. Whereas many Christian films merely portray cultural dilemmas,
Risen
challenges the status quo in the same way Jesus himself did. Toward the beginning of the movie, Clavius tells Pontius Pilate – the governor of Judea – that he hopes to rise through the Roman hierarchy, perhaps as prefect or even emperor. Yet, he reveals his true goal is to have peace and a life without death. This stands in contrast to Clavius' livelihood as a soldier, in which battles and killing are frequent disruptions to the peace he seeks. Pilate asks him, "All that for peace?" As a military veteran, this line really got to me. When I was a senior noncommissioned officer in the U.S. Army, the position was nothing more than a job to me. I served not because I believe in the recruiting posters or political slogans, but to have a secure future for my family. I did not serve for twenty years because of patriotism or national service. Rather, like most soldiers who are honest with themselves, I am investing in a future with peace.
Nonetheless, I am painfully aware that military retirement does not promise a life without problems (e.g., disability, PTSD). The benefits that I receive from the Department of Veterans Affairs cannot save me in this life, nor in the next one. There are still bills to pay, and health insurance does not actually guarantee a healthy existence. Even if I had achieved the next higher rank, it may have included more money, but also less time with God and my family. Clavius laments this in
Risen
, knowing that ascending even to the office of Caesar will only ever mean warfare and death. He understands that he has to kill people and compete with fellow soldiers for recognition, when his real goal is an estate with his wife and children. Toward the end of the film, Jesus meets with Clavius briefly, telling him that he can have a life of peace in both this life and in eternity – without hurting anyone or gaining a higher socioeconomic status. I am not ashamed to say that I was in tears, because I am struggling with the same questions.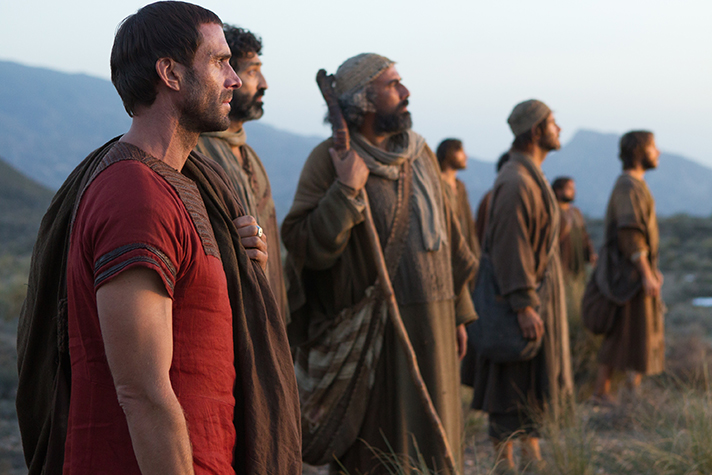 Clavius stands next to the apostles during the Great Commission
Greatly Commissioned to be Children of God
An encounter with the risen Jesus changes us, if we are but willing for it to happen. In
Risen
, the Lord never directly told Clavius to remove his uniform or to surrender his military rank. However, his time with Jesus and his disciples resulted in a total renewal of his inner personhood, his goals, dreams, methods, and relationships. When we meet Jesus for real, we cannot be the same as we once were. If we forgo our lives of deliberate sin, especially our desire to hurt another individual to get ahead, God restores his image in us – that coveted
imago Dei
we too often neglect in ourselves and others. Remember when Jesus said, "Truly I tell you, unless you change and become like children, you will never enter the kingdom of heaven. Whoever becomes humble like this child is the greatest in the kingdom of heaven. Whoever welcomes one such child in my name welcomes me" (
Matt. 18:3-5
).
Oftentimes, church leaders interpret "become like children" to mean eschewing formal education and prohibitions against intellectual pursuits. Conversely, Jesus was certainly not advocating for ignorance, but something completely different. A child has no money, status, title, or position in life. In other words, children do not compete with each other over socioeconomic status like adults do. We can observe this innocence on the playground, where children play with anyone regardless of skin color or how much money their parents make. To "become like a child" is to stop classifying people according to race and income level, but to make friends of all individuals made in God's image. This is our Great Commission ("Go therefore and make disciples of all nations, baptizing them in the name of the Father and of the Son and of the Holy Spirit, and teaching them to obey everything that I have commanded you" [
Matt. 28:19-20
]), to take the gospel to people of all ethnic groups (Greek:
ethnos
;
G1484
), not just "nations" in the sense of foreign countries. In order to genuinely celebrate the resurrection of Jesus, we must respect the image of God in all of our neighbors, not just the ones we approve of. Being a child before God means the denial of self, and playing with the other kids on the playground without looking for excuses to divide and accuse. Oftentimes, adults tell children something to the effect, "You will understand when you are older." Stop it! That kind of statement is the directly opposed to what Jesus taught us! To be sure Jesus does not want us to be ignorant, keep this lesson in mind: "Be wise as serpents and innocent as doves" (
Matt. 10:16
). We are supposed to be engaged with the world around us intellectually, but to avoid committing its sins. You cannot dismiss education and be wise, but maturing into adulthood does not require us to contextualize reasons for ignorance and bigotry, either. Simply put, God does not recognize our political boundaries nor our socioeconomic strata, but only our hearts and minds. Remember, Jesus commanded us to love one another. It is sinful to complicate that by being an adult, or making excuses that others "need to understand."
Clavius' life was never the same after he met the risen Jesus
Conclusion
Sometimes, it is awesome to watch films like
Risen
to understand how Jesus changed the world, and how he still renews it. If you are wondering how I went from talking about seeking a life of peace in a world of violence and discrimination to "becoming like a child," they are really answers to the same question: How should we treat fellow human beings – our neighbors? God did not create our world so we could fight wars and step on others to get ahead, but for us to live in harmony. The peace of Jesus is available to all people, regardless of their status in life. The Great Commission is our calling to offer God's peace to everyone while we, too, seek a life without war, violence, socioeconomic posturing, or hatred.
____________________________________________________________________


New Revised Standard Version. New York: Division of Christian Education of the National Council of the Churches of Christ in the United States of America, 1989.

Risen. Directed by Kevin Reynolds, Columbia Pictures, 2016. Film.